Annual Conference
WiN Canada's Annual Conference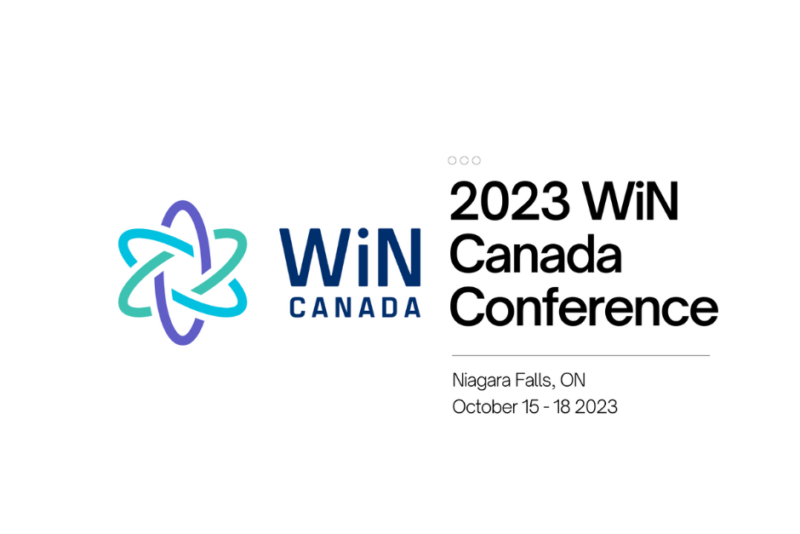 2023 WiN Canada's 20th Annual Conference
Save the date: October 15-18, 2023
Location: Niagara Falls, Ontario
As we look forward into 2023, we are excited about the future of the Canadian nuclear industry. WiN Canada will continue to grow programs to provide more support for the industry in several areas. We are especially looking forward to welcoming everyone in-person again at our 2023 WiN Canada Conference in Niagara Falls, Ontario where we can showcase impactful programming, professional development, and networking opportunities for our attendees. Save the date for October 15-18, 2023.
---
2022 WiN Canada's 19th Annual Conference: Forward Together
Women in Nuclear Canada will be hosting an in-person conference and this year's theme is Forward Together. The conference will be held in Niagara Falls, Ontario from September 25th to 28th. This annual conference will be highlighting the vital role women play in all applications of nuclear science and radiation technology. The conference will provide opportunities for networking, exchanging ideas, technical visits and obtaining the most up-to-date information on the nuclear programmes and facilities in Canada. WiN Canada is excited to welcome our members to highlight the valuable contribution women make to the nuclear industry in Canada.
Event Details: September 25th – 28th, 2022 | Sheraton Fallsview Hotel, 5875 Falls Ave, Niagara Falls, ON L2G 3K7
Accommodations: * Important Update * As of August 31, 2022, WiN-Canada's room block is unfortunately sold out. Please click here to find hotels near Sheraton Fallsview that may be able to accommodate you.
Registration is closed. For any inquiries please contact Amanda Black.
---
Call for Proposal Submissions is Now Closed for 2022 Conference!
Proposals will be reviewed shortly. Thank you to those who submitted!
---
Sponsorship Opportunities 2022 Conference
Our sponsors and exhibitors play a large role in the success of our conference annually, and this year will not be any different. Becoming a sponsor and/or exhibitor gives you access to our top tier industry attendees from Canada and visibility to your organization. We have a range of sponsorship opportunities to fit the return on investment and expand your outreach. Being our first in person event in years, this is the time to get involved and be front and center to connect and network with who matters most!
For further information or to book your sponsorship opportunity, please email our Event Manager, Sneha Shenoy
---
Cancellation Policy 2022 Conference
Between now and 60 days before the event, full refund
60-30 days before the event, 50% refund
30 days before the event, no refund
If within 30 days an attendee has covid and is unable to attend they will receive a credit to use for next year's conference. No refunds.
————-
Thank you again to our 2022 Sponsors for helping us execute a successful conference!