Annual Conference
WiN Canada's 19th Annual Conference: Forward Together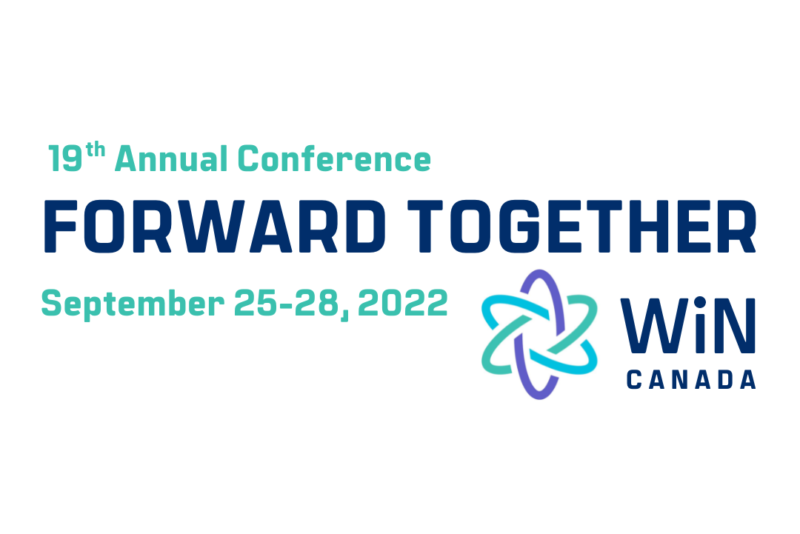 Women in Nuclear Canada will be hosting an in-person conference and this year's theme is Forward Together. The conference will be held in Niagara Falls, Ontario from September 25th to 28th. This annual conference will be highlighting the vital role women play in all applications of nuclear science and radiation technology. The conference will provide opportunities for networking, exchanging ideas, technical visits and obtaining the most up-to-date information on the nuclear programmes and facilities in Canada. WiN Canada is excited to welcome our members to highlight the valuable contribution women make to the nuclear industry in Canada.
Event Details: September 25th – 28th, 2022 | Sheraton Fallsview Hotel, 5875 Falls Ave, Niagara Falls, ON L2G 3K7
Accommodations: You will want to immerse yourself in the events, experiences and memories that only staying onsite at our venue, Sheraton Fallsview, can provide. You will not want to miss the ability to be close to the action and fun, while getting a great pricing on your room. To make a reservation before Friday, August 26th, use this booking link or call (905) 374-4445 to get our preferred rate(s) of $195-$235/night dependent on the room type.
---
Call for Proposal Submissions Extended Until Wednesday, July 13th
Due to overwhelming demand and to further ensure there is accessibility to this unique opportunity, we have extended our call for proposals until Wednesday, July 13th at 11:59 pm (ET). This unfortunately will be the one and only extension, so do not miss out!
Objectives:
The objectives of the conference are to:
Exchange information on the latest developments, trends and challenges in the nuclear field;
Provide opportunities for WiN Canada members and chapters to share experience.
Communicate and raise public awareness of the benefits of nuclear science and technology
Foster interest among women in pursuing careers in nuclear-related fields
---
Sponsorship Opportunities
Our sponsors and exhibitors play a large role in the success of our conference annually, and this year will not be any different. Becoming a sponsor and/or exhibitor gives you access to our top tier industry attendees from Canada and visibility to your organization. We have a range of sponsorship opportunities to fit the return on investment and expand your outreach. Being our first in person event in years, this is the time to get involved and be front and center to connect and network with who matters most!
For further information or to book your sponsorship opportunity, please email our Event Manager, Melanie Smilynov
————-
Thank you again to our 2021 Sponsors for helping us execute a successful conference!
More information to come to sponsor and partner for our upcoming conference.
Uranium
Bronze
Partners